Rules in the network
Designed to ensure optimal operation of the network and its services, reduce the number of failures, and improve its safety. The rules apply to all persons and all organizations using any computers, computing and communication systems of JINR and organizations connected to the JINR computer network
Registration of JINR Network Users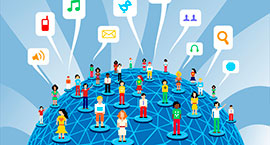 All JINR staff members and seconded personnel using network and computer resources have to be registered with the lit network service of jinr.
To do this, it is necessary to familiarize yourself with the rules of work in JINR network and perform the following procedures
Fill out the registration form of the network user. The questionnaire can be downloaded from the server Word 97, PDF, LJ or obtained from operators in the network service (LIT room 216).
Sign the questionnaire from the head of the department or the head of your project.
The completed questionnaire is to be brought to the network service (LIT room 216).
When changing the registration data, the user is obliged to report new data to the JINR Network Service.
Register an E-mail address
JINR staff members can receive an account for working with e-mail both on the mail servers of their laboratory (domain
@xxx.jinr.ru
) and on the central mail server
mail.jinr.ru
(domain
@jinr.ru
).
To obtain an account on a lab server, you should contact your system administrator (see list)


To obtain an account on the mail.jinr.ru server, you need to go to the LIT Network Service (216 room), tel. 216-34-88.
For more information call 216-34-88 or
noc@jinr.ru